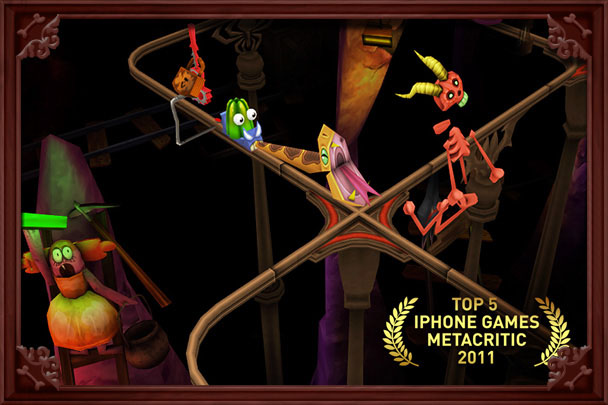 The Game
An anxious pudding is trapped in a scary ghost train! Help him puzzle his way to the exit and scare back the monsters with funny weapons and traps!
This award-winning addictive action puzzle game is easy-to-learn, but hard to master: Explore the verious worlds of the ghost train, defeat scary monsters, angry witches, crazy skeletons and fire-spitting dragons, and reach the exit before your courage energy is down.
To be successful, you must be clever and quick: manipulate the tracks, exchange junctions and activate levers and bridges! Select from a variety of funny weapons and traps to scare the monsters back, trap monsters and scare them with funny weapons.
60 levels of different gameplay challenges (Original Version has 48 Levels)
hilarious animations and sound
beautiful 3D environments
suspense, action and puzzling fun!
What is new in the Reloaded Version:
Everyones favorite dessert J.Jitters returns in the "Reloaded" version of "The Great Jitters: Pudding Panic", the award winning game that "created a genre never seen before on the App store" (AppGamer), "utterly intense, but ridiculously addictive.... a puzzler without comparison" (PocketGamer UK).
Ę
a new world (Mad Science)
quests
special gadgets, weapons and Puddings
new Challenge: win without getting scared
new Challenge: play against the clock
Reviews and Awards


Pudding Panic is 5th best reviewed iPhone Game 2011 on Metacritic with a Metascore of 91
4,5/5 stars
"A very original game with fantastic graphics and an adorable main character. ... a really interesting take on the puzzle/maze genre and with wonderfully spooky and amusing music and sound effects... ... this really is a charming game to play."
iPad App Café
9/10 stars
"a pat on the back for whoever came up with such a crazy and outlandish idea. Pudding Panic seems to have created a genre that has never been seen before on the App Store"
AppGamer
9/10 stars
+++ Pocket Gamer Gold Award +++
"Sweet like shock-o-late… ridiculously addictive… a puzzler without comparison on iPhone!"
pocketgamer.co.uk
5/5 stars
"A fun and unique challenge… An easy game to recommend to those after something a little out of the ordinary!"
appspy.com
4/4 stars
"The game's 3D graphics look fantastic… If you're looking for a puzzle game that's fun, fast, and original, you'll eat up Pudding Panic. Its premise alone is a winner!"
slidetoplay.com
5/5 stars
"A frighteningly fun ride that shouldn't be missed by fans of quirky action puzzles!"
pauseunpause.com
5/5 stars
"This game is a must-play with incredible graphics, gameplay, Game Center support, and many enjoyable levels… So don't be scared! Hop in with Jitters and be prepared for a frighteningly fun ride!"
appadvice.com
4,5/5 stars
"Super fun to play! … this game is sure to have something to make you smile!"
148apps.com
4,5/5 stars
"A stunning piece of art… a spectacular look and feel… unique gameplay…for this low price Pudding Panic is a great buy!"
appsafari.com
4/5 stars
"Pudding Panic offers beautiful 3D-Worlds… many levels… many puzzles. We recommend it!"
appgefahren.de
4/5 stars
"Fun carnival haunted house vibe."
gamezebo.com
" Pudding Panic, most definitely not a game for the faint of heart, will provide hours of entertainment if you love action, horror and rollercoaster rides."
Lunch Box reviews
Qi's Top Ten iPhone Apps of June 2011 (position 4)
Most critically acclaimed titles on App Store
iphone.qualityindex.com
And there is a lot of fan feedback from all over world on: facebook.com/thegreatjitters
Videos
Gameplay Trailer
J. Jitters' Casting
See our real game actor J. Jitters driving through the real ghost ride on the Christmas market at Alexanderplatz, Berlin (Dec. 2010)
Wallpapers
| | | | |
| --- | --- | --- | --- |
| | | | |
| Download for | Download for | Download for | Download for |
Download for
Contact
kunst-stoff GmbH
Kottbusser Damm 73
Eingang Lenaustrasse
10967 Berlin
Managing and Creative Director: Patrick Rau
Amtsgericht Charlottenburg
HRB 116779 B
Ust-IdNr. DE262805276

Tel: +49 (0)30 23457178
Fax: +49 (0)30 24 08 32 22
Support
Q: The app crashes on my device, what should I do?
A: First, restart your device: Hold down the Home button (that's the big button in the lower front) and the Sleep / Wake button (that's the little button on the top right) down. Keep holding until you see the screen go black and then the Apple logo appear. Your device has been rebooted.
If this does not help, check whether there is a PUDDING PANIC update available on the App Store. If you need help doing this, see How to update App Store applications.
If this doesn't help either, update your device to the latest firmware. Find more information about how to check for iOS updates.
If this does not help either, please delete PUDDING PANIC on your device and download it again from the App Store. You will not be charged again.
Q: All of the above doesn't help. What should I do?
A: Contact the PUDDING PANIC support team. Important: Please include information about your device (iPhone/iPodTouch/iPad, which generation, which iOS).
Support Contact
support@kunst-stoff.de
Unfortunately this game is not available anymore.